Meet More Former Employees
Meet Some Interesting Former Employees
Jesse Nason
Partner, Kirshenbaum & Kirshenbaum, Attorneys at Law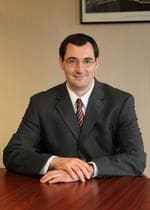 My name is Jesse Nason, and I am currently a partner at the law firm of Kirshenbaum & Kirshenbaum.  Prior to beginning my career as an attorney, I spent many years working for McDonald's.  While often looked at in jest, I found my time working at McDonald's to be invaluable.  I began at McDonald's when I was 17 and continued my employment through law school.  McDonald's was my first real job outside of pushing a lawn mower, and the experiences it gave me have helped me in my career to this day.  I believe McDonald's helped me most by having to adapt to working with a variety of people.  McDonald's was always an eclectic blend of workers of various age, experience, races, socioeconomic status, and education.
I currently primarily practice as a divorce attorney.  Divorce itself is not selective and I never know who my clients will be – they could be young, old, rich, poor, educated or ignorant.  My time at McDonald's exposed me to many types of people and how to adapt and work with each and those experience I use in working with my clients.  Through McDonald's I also obtained confidence and learned that hard work could lead to advancement.  I considered myself a hard worker and through my time at McDonalds I eventually worked my way up to management.
In my career, I began at Kirshenbaum and Kirshenbaum right out of law school and persisted with the same work ethic I had at McDonald's.  Through continuous hard work and dedication, I was fortunate to be named partner in the firm faster than anyone in firm history.  Looking back, I honestly believe that McDonald's was important in developing who I am as a professional and would strongly recommend it to anyone as a stepping stone to further success.